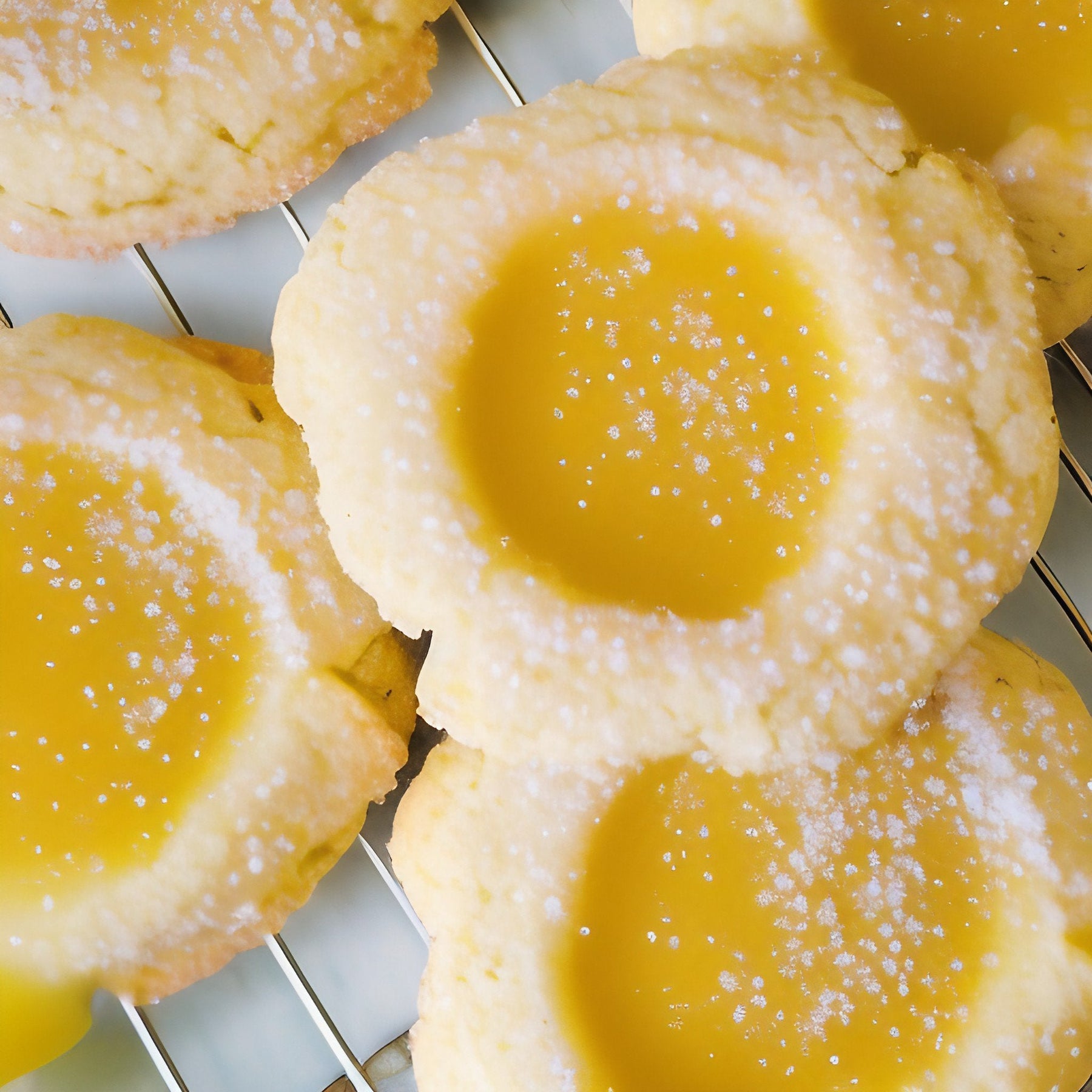 How to Make Delicious Lemon Curd Thumbprint Biscuits Using BritGrocer's Lovely Lemon Curd
Lemon Curd Thumbprint Biscuits are a perfect treat for any occasion.
They are easy to make and have a tangy and sweet flavor that will leave you wanting more. This recipe is perfect for any occasion and will make your guests swoon! The combination of the buttery biscuit and the sweet lemon curd filling is a match made in heaven and in this blog post, we will provide you with a step-by-step guide on how to make these delightful biscuits.
 We'll also provide you with a link to BritGrocer Lovely Lemon Curd, which is a perfect addition to these biscuits to make this baking experience a little easier for those that prefer to skip the lemon curd making part. So, let's get started!
Ingredients: DIY Lemon Curd
- zest and juice of 4 large lemons
- 4 large eggs (beaten)
- 1 cup (200g) granulated sugar
- 6 tablespoons (90-100ml) salted butter
Instructions: The DIY Lemon Curd part
In a medium saucepan, combine the lemon zest, lemon juice, granulated sugar, and beaten eggs for the lemon curd. Whisk constantly over medium heat until well combined.
Reduce the heat to low and continue whisking the mixture for about 10 minutes, or until it thickens.
Remove the saucepan from the heat and gradually add the cubed butter, whisking continuously until the butter melts and the mixture is smooth.
Strain the lemon curd through a fine-mesh sieve into a bowl. Cover and let it cool, then refrigerate for at least one hour or overnight before using it for the cookies.
Ingredients: The Biscuit Bit!
- 1 cup (227g) salted butter, softened
- 1 cup (115g) powdered or caster sugar
- 1 tsp (5ml) lemon zest (packed)
- 1/2 tsp (3ml) pure vanilla extract
- 2 1/4 cups (288g) all-purpose flour
- turbinado sugar (for sprinkling)
- 1/2 cup (150g) of BritGrocer Lovely Lemon Curd (optional - see DIY Lemon Curd part)
Instructions:
1. Line two baking trays with parchment paper.
2. In a large mixing bowl, combine the caster/powdered sugar and lemon zest. Use a wooden spoon to press and release the lemon oils.
3. Add the softened butter to the bowl and cream together for 3-5 minutes until light and fluffy. Add in the vanilla extract and mix.
4. Sift in the all-purpose flour and mix until a dough is formed. Chill the dough in the refrigerator for about an hour.
5. Roll the dough into small balls (about the size of a walnut) and place on the prepared baking trays.
6. Press your thumb (or the back of a teaspoon) into the center of each biscuit to create an indentation.
7. Spoon a small amount, about 1/2 teaspoon of BritGrocer Lovely Lemon Curd into the center of each indentation and sprinkle with turbinado sugar.
9. Preheat your oven to 350°F (160°C fan)/350°F/gas mark 4.
10. Place the baking sheet in the freezer for at least 15 minutes while the oven preheats.
11. Bake in the preheated oven for 12-14 minutes or until the edges of the biscuits are lightly golden.
12. Remove from the oven and allow to cool on the baking trays for 10 minutes before transferring to a wire rack to cool completely.
And there you have it - delicious Lemon Curd Thumbprint Biscuits! These biscuits can be stored in an airtight container for up to 5 days. They are perfect for a quick snack or for when you have guests coming over.
We highly recommend trying BritGrocer Lovely Lemon Curd with these biscuits as it complements the tangy flavor of the lemon perfectly. You can find BritGrocer Lovely Lemon Curd from our shop right here.
We hope you enjoyed this recipe and that you give these biscuits a try. Let us know in the comments how they turned out for you!
Happy Baking!